I have a cupboard of cookbooks... who doesn't? I have cooked from almost all of them, but some just a recipe here and there. So when I did our meal planning for this month, I pulled out a couple of books, Bill Granger's Every Day, Nigella Lawson's Express and Donna Hay's No Time to Cook and decided to try a whole bunch from each.
Yesterday friends visited for dinner so we did Bill's Sausages and Caramlized Onions followed by Nigella's Rice Krispy's for the kids and Blueberry Crisp (recipe calls for Blackberries, but we used frozen blueberries) for us adults. Everything was a hit. The crisp was lovely compared to a normal crumble, with sesame seeds and almonds mixed in for a crunch.
Today, after dropping Bella at her first day back at school Liam and I decided to do some baking. So pulling out the recipe books we made Nigella's Mexican Scrambled Eggs for lunch, then made a batch of Bill's Iced Jumbles. The kids have already hit the batch and had to be physically restrained from eating them all. They are good. Bills' Spicy Chicken Meatballs are on the list next.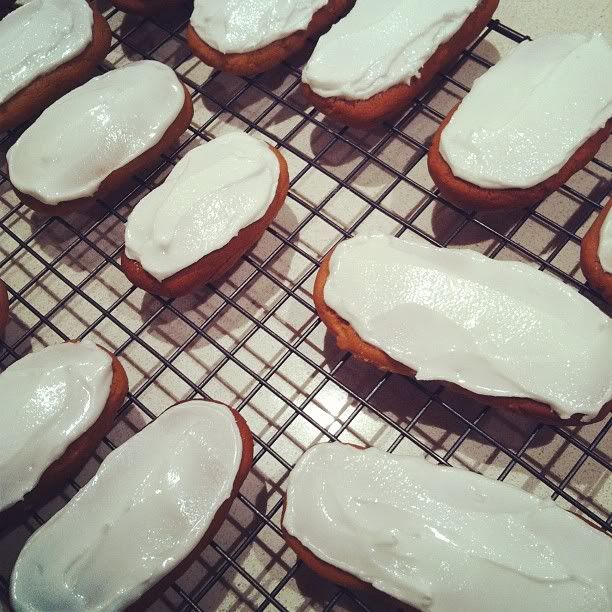 Iced Jumbles
60g Unsalted Butter
160 ml Golden Syrup
260g Plain Flour
1 tsp Bicarbonate of Soda/Baking Soda
1 1/2 tsp Ground Ginger
1 tsp Mixed Spice
Icing, Below
Preheat the oven to 180C and line two baking trays with baking paper. Stir the butter and golden syrup in a pan over medium heat until the butter has melted, then bring to the boil and remove from the heat. Leave to cool for 15 minutes. Sift the flour, bicarbonate of soda and spices together, then stir into the syrup mixture.
Knead the dough on a lightly floured surface until smooth, and divide into four. Roll each portion into a 3 x 1 cm log and cut into 6 cm pieces. Place on the trays and bake for 10 minutes, or until light golden. Cool on wire racks and spread with icing.
Icing
1 Egg White lightly beaten
240g Icing Sugar
2tsp Lemon Juice
Food Colouring
Stir together the egg white and icing sugar until smooth. Add the lemon juice and a few drops of food colouring and stir well.
The above is the recipe and instructions from Bill Granger's Every Day. Just a note, I had to use more lemon juice for the icing than the recipe called for to get a spreadable consistency. Also I was completely baffled with the instructions on what size to roll the dough for the jumbles (after a bit of googling, it seems I'm not the only one... phew). What I did was split the dough into four then roll each one into a rectangle about 1cm thick and cut each rectangle into about 6 pieces. In the end I had 24 jumbles.