The stories coming from the Queensland flooded areas on our television and news websites are devastating. So many family lives changed forever. The loss of lives is heart breaking.
We are very thankful that our family members living in Brisbane have been spared any property damage, but they are affected in so many other ways like even not being able to buy any basic food necessities.
Just as last year when the terrible fires hit Victoria, many crafting blogs are coming together to raise funds for the victims. So while our family will be donating funds directly to the Premier's Flood Relief Appeal I also plan on hitting a couple of the fantastic auctions coming up and trying to win some goodies with all the funds also going to the appeal.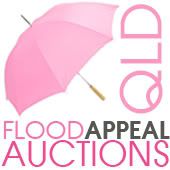 Starting next week, one marvelous lady, Toni from Make it Perfect is co-ordinating the QLD Flood Appeal Auctions. As Toni explains it on her blog...
"Here's the plan. On Monday 17th January, I will have a master list of bloggers who will be running auctions from their blogs, selling products that they make or from their stores. You will have one week to bid on these auctions, and hopefully be the lucky winner of these great products. Auctions will be open for 1 week, and will close at midnight on Monday 24th January."
Times like this I wish I had a stash of handmade goodies all sitting in a nice pile so I could join in right now, but sadly I don't, but tomorrow night, I plan on plonking myself infront of the sewing machine and coming up with "something" to auction off.
In the mean time, a few other auctions are already up and running... go and bid big